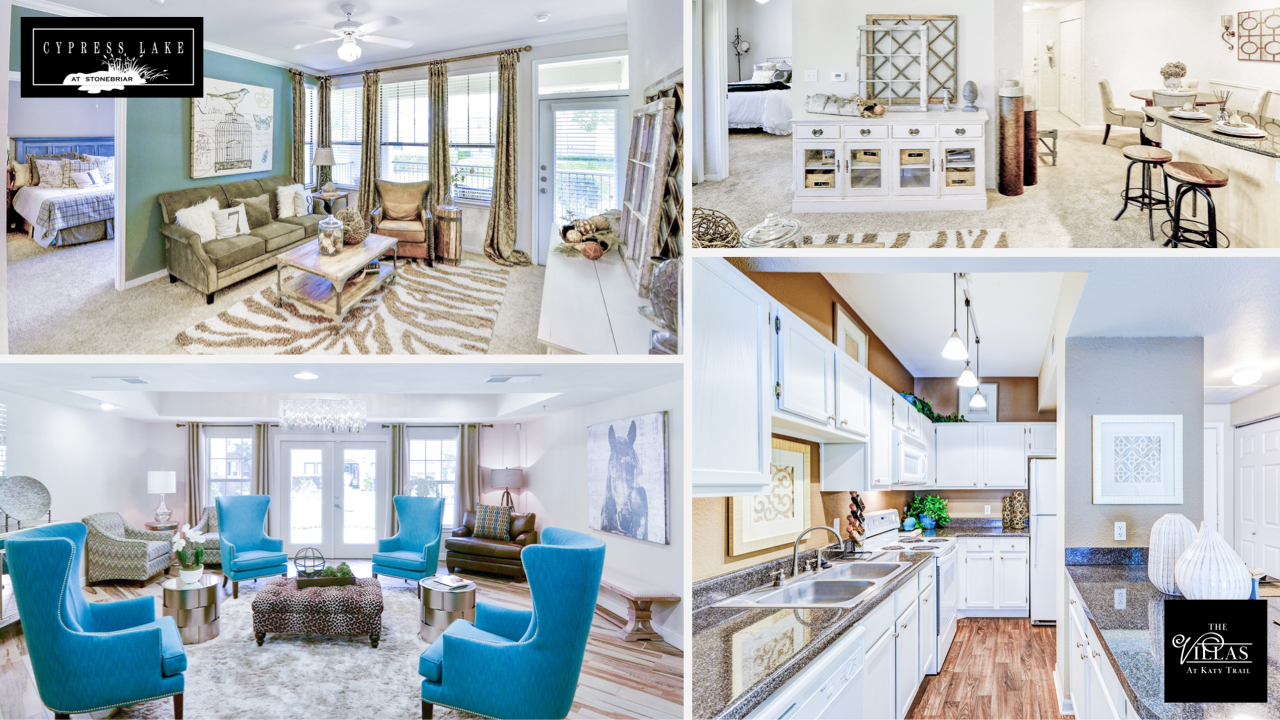 (The top two photos are of Cypress Lakes at Stonebriar in Frisco, Texas, and the bottom two photos are of The Villas at Katy Trail apartments in Uptown Dallas.)
Does all of this time at home have you dreaming of more space? Or a better space? Or a different space away from that unpleasant roommate? Welcome to the club.

Rental demand has been steadily increasing since the shelter-in-place orders have began. It seems that the more we spend at home, the more we realize that the quality of our home matters to us.

The good news is that it's actually an opportune time to find a new apartment. Prices have dipped, and move-in incentives have been robust. Not to mention, technology has made finding and renting an apartment easier than ever before. Here are 3 tips to safely and successfully find a great apartment during these "awkward" times:
1. Ask about Unit-Specific Rent Specials For The Best Deal
What most people don't realize, is that prices for apartments can fluctuate daily based on a variety of factors – the season, the economy, and of course, demand! If you're looking to get the absolute BEST price for an apartment and are willing to be flexible on a few of your desired specifications, you may be able to take advantage of an incredible "Rent Special." At almost all Gaines properties, we put units "On Special" that have been vacant for a long period of time. Our goal is to fill up these specific units quickly – so we lower the rent, and waive our application fee, admin fee, or even reduce the deposit so that it's more likely to get leased. Pro-tip: ALWAYS call the property that you are interested in and ask about our "Rent Specials". You'll get the best deal – guaranteed!
2. Take Advantage of LIVE Digital Tours
Right now, all Gaines Investment Trust properties offer LIVE virtual tours. This means that a leasing agent can walk you through our model or vacant units and give you a personalized tour via FaceTime, WhatsApp, Facebook Messenger, etc! If you'd like, we can also send you pre-made informational videos about our floorplans. Also, we continue to offer in-person tours! So always feel free to "mask-up" and make an appointment to tour our property with our staff "social-distancing style."
3. Use Google Earth and Google Street View
If you're unable to travel to the property or drive around a new neighborhood, you can still get to know it very well by using Google's amazing resources. Google Earth literally makes you feel like you're flying above the world, and Google Streetview lets you parachute down to any specific location to take a closer look. When you combine a virtual apartment tour with some exploration via Google Earth & Google Streetview, you'll truly get a feel for the apartment and neighborhood. Many people confidently rent apartments using this method without ever leaving their couch!
Interested in Upgrading Your Apartment? Gaines Investment Trust has over 7500 apartments nationwide. We'd love to help you find a safe and comfortable place to call home!