The story of Gaines Investment Trust mirrors the iconic mid-century American success story. The founder of our company, Don Gaines, grew up in a small one-bedroom apartment located on the fifth floor in a densely populated area of New York City. Living in small quarters led Don to crave the outdoors. As a young boy he dreamed of being able to simply go outside without taking an elevator or walking down five flights of stairs.
At age 10, in 1952, when his parents told him the family was going to move to a new single-family home in California, Don was ecstatic. He would look over and over at the sales brochure thinking about playing in the yard and having his own room. After a long road trip across the country, Don arrived at the new home. Though it was an upgrade from the small apartment in New York, the house barely had a yard and didn't look anything like what he had pictured; it was a major disappointment. As it turned out, the disappointment that Don felt on that summer day in 1952 made a very strong impression on him.
Many years later, Don looked back at that moment in time and realized that visual appeal and location are the "must-haves" for any property he would consider buying. As a result, and with those simple benchmarks in mind, every property in the Gaines Investment Trust real estate portfolio has met those requirements.
In 1964 Don graduated from UCLA with a degree in Real Estate and Urban Land Economics. He then acquired a real estate brokerage license, did master's work in Real Estate and went to law school for a year. At that time he was "schooled out." Don then worked for two years as a condemnation appraiser for the City of Los Angeles and while there, built his small savings into an investment nest egg by trading stocks. By 1966, he made significant gains in the stock market and quit his job to take an entrepreneurial leap of faith and go into business for himself. He was 24. He rented a 10x10 foot office; his office had no window, he had no clients, and he had little idea of what he was doing. But he had a sign on the door that said Donald B. Gaines & Co. and a burning desire to be his own boss and become successful in the real estate business.
Don started off by brokering and managing apartment buildings in the San Fernando Valley, a suburb of Los Angeles. It was a challenging and uncertain time, but Don's hard work, passion and persistence paid off when he purchased his first home and then a small investment property in his first year of business.
Don enjoyed the brokerage business, the management business, and the creative process of enhancing and remodeling properties in order to make them more desirable and more valuable. The business grew exponentially and became an unbridled success. Before long, Gaines & Co. management signs were seen in front of numerous buildings in the San Fernando Valley. Gaines & Co. was an exciting, busy work-place throughout the late 60's, the 70's and the early 80's.
By 1983, the portfolio of properties that Don had acquired for his own account was large enough to demand his full-time attention. He transitioned from apartment brokerage and fee management to solely focusing on owning and operating his own assets. At that time, Don's wife, Pam, entered the business. Pam also was skilled in apartment management, brokerage, and negotiation. A perfect fit.
Together, over the next 36 years they expanded the portfolio of assets to include thousands more apartment units, office buildings, retail, industrial properties, and land. They were the company's sole investors and to this day all properties in the portfolio are family-owned.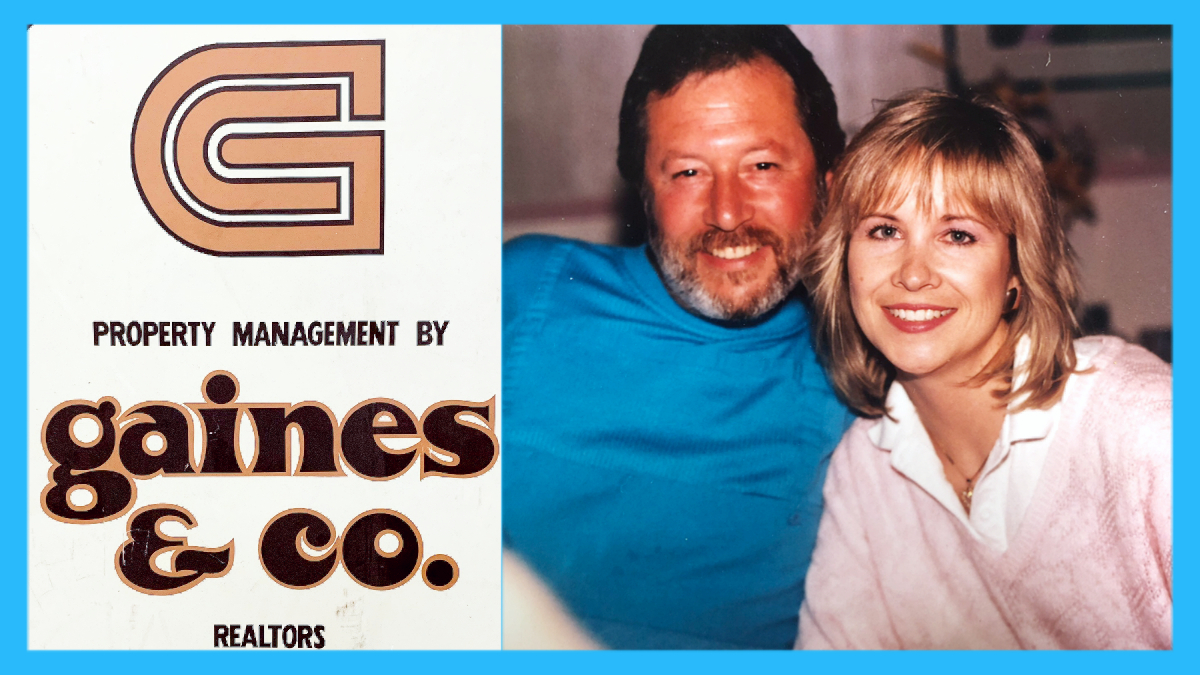 (Don & Pam Gaines)
IN THE LAST 30 YEARS -
In the early 1990's, Gaines & Co. was renamed Gaines Investment Trust and the corporate headquarters were relocated to a Gaines owned office building in La Jolla, California. Since then, GIT's main focus has been the acquisition and management of apartment communities along with land purchases and other strategic industrial and commercial investments.
In 2002, Don and Pam welcomed their son, Jeff Gaines, into the business. Jeff's innovative thinking and leadership has propelled GIT into a new era of success. A few years later, Jeff became the Managing Director of Gaines Investment Trust and has been responsible for all aspects of the company since that time. In 2022, he became President. Jeff's wife, Robin, holds the position of Director of Corporate Relations currently serving as the liaison between the field team members and the corporate staff. In the past, she has held other important positions in the company.
Over the years, other members of the Gaines family have greatly contributed to the company. Daughter, Allison, who has held many positions over the last 20 years rejoined the company as a Senior Vice President. Son-in-law Matthew Bernstein joined the company in 2016 in an administrative role, and after holding a number of positions, has since worked his way up the corporate ladder to become Senior Vice President of Property Management. Daughter Tiffany Gaines Bernstein joined three years after that and now; serves as Director of Marketing. Daughters Cynthia, Breanna, and son Ted have also played important roles in the company over the years. Grandson Blake now serves as Regional Manager for the California and Tucson portfolio.
At the core of Gaines Investment Trust is a family ethos of caring about what you do and doing what you care about. Proudly multi-generational, we value the wisdom and experience of our founders and senior staff while welcoming the innovative ideas of those family members and staff who are new to the company.
WHAT MAKES US DIFFERENT -
What makes Gaines Investment Trust unique from other companies is our level of commitment and attachment we have for each property in our portfolio. We are not real estate traders; we are long term real estate owners and investors. Don's dream of living in beautiful surroundings has inspired and still informs every acquisition we make. Simply put, we purchase and own properties that we would enjoy living in. Every property in the portfolio has beautiful courtyards, greenbelts, and gardens.
Equally as important, at each Gaines Investment Trust apartment community, you'll experience a unique and unexpected level of warmth and consideration from our management staff. At Gaines Investment Trust, we're not only invested in our properties themselves but highly invested in the comfort of our residents which is made possible by a uniquely competent and caring staff.

Whether you live at one of our properties or pursue a career at GIT, please know that our company is built on a solid foundation of long term business relationships and family values. Still 100% family-owned, we are fully invested in each property, each staff member, and each resident.
P.S. With Deep Love Comes Deep Sorrow
We are a very close and connected large family and 2019 was an extremely difficult year for us. We grieved the passing of Pam Gaines. Pam not only served as one of the founders of Gaines Investment Trust, but she was the deeply loved and cherished matriarch of the family. Known for her knowledge, judgment, integrity, grace, family values, and contagious kindness - Pam will always serve as the guiding light to all of us and for future generations. She is deeply missed.